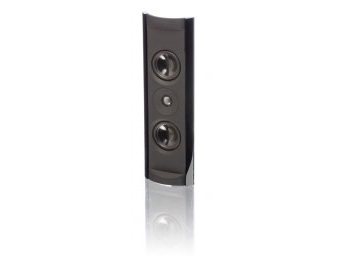 Cinema 200
3-driver, 2-way acoustic suspension LCR on-wall with option to sit center speaker on a table
Features & Specifications
Superior S-PAL™ Satin-Anodized Pure-Aluminum Domes with powerful neodymium magnets and ferro-fluid cooling for increased power handling! Highs are transparent with a superb sense of air and exceptional spaciousness.
Wire Mesh Tweeter Guard and WaveGuide™ technology ensure a smooth, wide panorama of audiophile-quality sound.
Reference quality crossovers in an affordable audiophile … almost unheard of! Driver integration is virtually seamless across the full range of frequencies.
Push-thru Binding Posts with Easy-Glide™ Channels.
Design
3-driver, 2-way acoustic suspension LCR on-wall with option to sit center speaker on a table or shelf with supports included
Crossover
2nd-order electro-acoustic at 1.8 kHz
Frequency Response On-Axis
±2dB from 120 Hz - 20 kHz
Frequency Response 30° Off-Axis
±2dB from 120 Hz - 15 kHz
High Frequency Driver
Three 25-mm (1 in) S-PAL™ dome tweeters, ferro-fluid damped and cooled
Mid/Bass Frequency Driver
Two 102-mm (3-1/2 in) mineral-filled polypropylene cones, 25-mm (1 in) high-temperature voice coils, advanced motor structures with oversized ferrite magnets
Low Frequency Extension
80 Hz (DIN)
Sensitivity Room / Anechoic
90 dB / 87 dB
Impedance
Compatible with 8 ohms
Suitable Amplifier Power Range
15 - 150 watts
Maximum Input Power
70 watts
Finishes
Black Gloss
Weight
8.3 lbs. (3.7 kg)
Dimensions HxWxD
19.875" × 6.3125" × 4.0625"
(50.5cm × 16.1cm × 10.4cm)