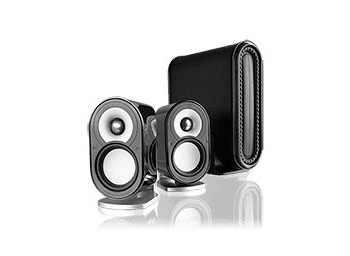 MilleniaOne CT
Step Up to Reference Quality Performance
Features & Specifications
Our Paradigm Reference MilleniaOne CT is a step-up from its cousin the Millenia CT in both sonic performance and build quality. The speakers are the same ones that recently won Sound & Vision's Product of the Year!
Like its cousin, MilleniaOne CT audio/multimedia system is a fully powered system, no receiver required, but that's where the similarities end. This system is a reference product: high-quality cast-aluminum speaker cabinets and extruded aluminum subwoofer housing, patented corrugated surround technology on the subwoofer. Even the push-style gold-plated binding posts are a step up. It boasts Dolby Digital sound (anything from 1.0 to 5.1) downmixed and remixed to 2.1. The low-profile subwoofer is designed for versatility: stand it up, lay it down or hide it under a couch without affecting sound quality. Finally, for those wondering, the initials 'CT' stand for Compact Theater! Paradigm excels at producing room-filling reference sound in a compact format.
Speakers
Design

2-driver, 2-way vented die-cast aluminum enclosures with integrated baffle and chassis. Low-diffraction grilles maximize imaging and ensure smooth dispersion. Cast-aluminum cabinet construction.

Crossover

3rd-order electro-acoustic at 2.2 kHz

Frequency Response On-Axis

±2 dB 120 Hz – 20 kHz

Frequency Response 30° Off-Axis

±2 dB 120 Hz – 18 kHz

High Frequency Driver

25-mm (1 in) S-PAL™ satin-anodized pure-aluminum dome

Midrange Frequency Driver

102-mm (4 in) S-PAL™ satin-anodized pure-aluminum cone

Low Frequency Extension

80 Hz (DIN)

Sensitivity Room / Anechoic

88 dB / 85 dB

Impedance

Compatible with 8 ohms

Finishes

Black Gloss

Weight

6.5 lbs. (2.96 kg)

Dimensions HxWxD
Including stand

7.75" × 4.5" × 5.75"
(19.7cm × 11.5cm × 14.6cm)

Accessories
Included

Tabletop / shelf stands, wall-mounting brackets

Specifications are subject to change without notice.
Powered Subwoofer
Design

Single driver, sealed design, built-in 3-channel amplifier. Extruded aluminum cabinet construction

Amplifier

50 watts RMS x 2 satellite speakers. 100 watts RMS subwoofer. System Peak Power of 600 watts.

Amplifier Features

Auto-On / Standby, soft clipping

Low Pass Filter Frequency

150 Hz fixed

Low Frequency Driver

Monocoque 356-mm x 76-mm (14 in x 3 in) high-aspect ratio cone design, patented corrugated surround†, 38-mm (1-1/2 in) voice-coil

Low Frequency Extension

26 Hz (DIN)

Finishes

Black

Inputs

Optical digital; 3.5-mm auxiliary analog

Weight

14.4 lbs. (6.5 kg)

Dimensions HxWxD
Cradle adds 5/8-in / 1.6 cm to height.
Bumper pads add 1 in / 2.5 cm to height in horizontal position

14" × 5" × 12"
(35.6cm × 12cm × 30.5cm)