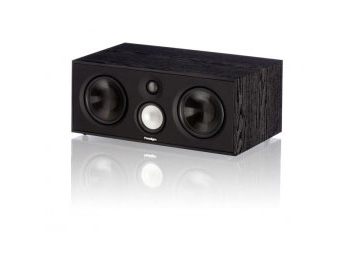 Monitor Center 1 v7
4-driver, 3-way center channel
Features & Specifications
Advanced S-Pal™ Satin-Anodized Pure-Aluminum Bass/Midrange Cones.
First seen in our Paradigm Reference lineup, very high stiffness-to-mass ratio and outstanding internal damping. The result? Remarkable midrange clarity, superb extended bass response and freedom from unwanted resonances and distortions. In an affordable audio category – unbelieveable quality!
Advanced Carbon-Infused Injection-Molded
Polypropylene Bass Cones. The high mineral content and injection-molding process have created a durable and rigid cone with affords us bragging rights for cone consistency and repeatability.
Design
4-driver, 3-way center channel
Crossover
2nd-order electro-acoustic at 3.0 kHz; 2nd-order electro-acoustic at 550 Hz (bass drivers)
Frequency Response On-Axis
±2dB from 75 Hz - 22 kHz
Frequency Response 30° Off-Axis
±2dB from 75 Hz - 18 kHz
High Frequency Driver
25-mm (1 in) S-PAL™ dome tweeter, ferro-fluid cooled and damped
Midrange Frequency Driver
90-mm (3-1/2 in) S-PAL™ cone, ferro-fluid cooled and damped, 25-mm (1 in) high-temperature voice-coil, oversize ceramic / ferrite magnets, GRIP™ chassis
Low Frequency Driver
Two 140-mm (5-1/2 in) carbon-infused polypropylene cones, 25-mm (1 in) high-temperature voice-coils, oversize ceramic / ferrite magnets, GRIP™ chassis
Low Frequency Extension
49 Hz (DIN)
Sensitivity Room / Anechoic
92 dB / 89 dB
Impedance
Compatible with 8 ohms
Suitable Amplifier Power Range
15 - 125 watts
Maximum Input Power
80 watts
Finishes
Black Ash, Heritage Cherry
Weight
25 lbs. (10.5 kg)
Dimensions HxWxD
7.25" × 17.75" × 10.5"
(18.3cm × 45.1cm × 26.5cm)