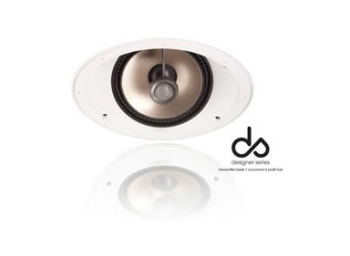 SIG-1.5R-30 v.3
Guided Soundfield™ system, 2-driver, 2-way in-ceiling, drivers mounted at 30°
Features & Specifications
NEW! Thinner, Sleeker Bezels with more transparent scrim for a cleaner, disappearing aesthetic with increased sonic transparency.

NEW! low-density NLC™ Non-Limiting Corrugated thermoplastic elastomer TPE Surround, trickle down technology from our Signature Series. FEA optimized and overmolded onto the polypropylene cone.

In concert with the new motor structure (see below) we've achieved double the power in these models! + 3dB! The speaker now plays louder. The thermoplastic elastomer is ten times more effective than standard elastomers in damping vibrations and resonances and the corrugations increase peak-to-peak excursion. While we would have loved to have effected this change across models, the Guided Soundfield model was the only model physically able to accommodate the size and quantity of corrugations needed and the larger motor structure.

NEW! Motor Structure Includes a Three-Split Voice Coil, thicker top plate and larger ceramic/ferrite magnet. The new structure further improves low-frequency sound distortion at high excursion while maintaining the much-lauded frequency response of the previous generation. The speaker can play significantly louder now, but without a hint of compression/distortion.

ABOUT OUR IN-WALL MODELS FOR THOSE WHO ARE WONDERING! Thinner bezels are not an aesthetic issue in in-walls, so bezels were left untouched.
Design
Guided Soundfield™ system, 2-driver, 2-way in-ceiling, drivers mounted at 30° relative to mounting surface, Ultra-Rigid™ die-cast chassis with GRIP™ mounting bracket
Crossover
3rd-order electro-acoustic at 2.5 kHz
Frequency Response On-Axis
±2dB from 58 Hz - 45 kHz
Frequency Response 30° Off-Axis
±2dB from 58 Hz - 17 kHz
High Frequency Driver
25-mm (1 in) P-Be™ dome, rear damping chamber with ARB™ fins and integrated heatsink, dual super-neodymium magnets, die-cast heatsink chassis
Mid/Bass Frequency Driver
210-mm (8 in) Co-PAL™ cone, anodized solid-aluminum phase plug, 38-mm (1-1/2 in) dual-layer voice-coil, ceramic / ferrite magnets, AVS™ die-cast heatsink chassis
Low Frequency Extension
37 Hz (DIN)
Sensitivity Room / Anechoic
92 dB / 88 dB
Impedance
Compatible with 8 ohms
Suitable Amplifier Power Range
15 - 225 watts
Maximum Input Power
140 watts
Finishes
White, paintable
Weight
4.4 lbs. (2 kg)
Overall Dimensions
11.625" (29.6cm) Diameter
Cut-Out Dimensions
10.625" (27cm) Diameter
Minimum Mounting Depth
Depth required is the distance
between 1/2" drywall, or similar material.
5.5" (13.9cm)
Minimum Internal Volume Required
0.70 cu ft (20 L)