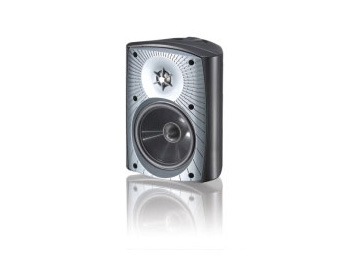 Stylus 270
2-driver, 2-way acoustic suspension, weather, water, UV-resistant PolyGlass™ enclosure
Features & Specifications
Superior PTD™ Pure-Titanium Domes with Unique Controlled WaveGuide™ Faceplates deliver smooth, clear, extended response. Ferro-fluid cooled and damped.
Superior ICP™ Injection-Molded Co-Polymer Polypropylene Cones. Oversized magnets and superior motor structures ensure a very detailed, authentic midrange.

Superior PolyGlass™ Mineral-Filled Reinforced Enclosures. Fully sealed (no ports) for protection against the outdoor environment … even under adverse weather conditions!
Design
2-driver, 2-way acoustic suspension, weather, water, UV-resistant PolyGlass™ enclosure
Crossover
3rd-order electro-acoustic at 2.3 kHz
Frequency Response On-Axis
±2 dB from 85 Hz - 20 kHz
Frequency Response 30° Off-Axis
±2 dB from 85 Hz - 18 kHz
High Frequency Driver
25-mm (1 in) PTD™ dome
Mid/Bass Frequency Driver
140-mm (5-1/2 in) ICP™ cone, die-cast chassis
Low Frequency Extension
60 Hz (DIN)
Sensitivity Room / Anechoic
90 dB /
Impedance
Compatible with 8 ohms
Suitable Amplifier Power Range
15 - 90 watts
Maximum Input Power
60 watts
Finishes
Black, White
Weight
6.8 lbs. (3.1 kg)
Dimensions HxWxD
9.5" × 7" × 7"
(24.0cm × 17.6cm × 17.6cm)