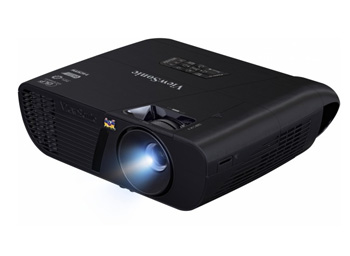 PJD7326
LightStream 4000 lumens XGA Networkable Projector
Features & Specifications
The ViewSonic networkable LightStream™ PJD7326 XGA projector with a sleek black chassis, features 4,000-lumen, majestic style, intuitive design and impressive audiovisual performance. Exclusive SuperColor™ technology offers a RGBCYW color wheel - 120% brilliant color, for true-to-life image projection, while SonicExpert™ technology powers a 10W cube speaker to deliver incredibly clear and audible sound. PortAll™ - a neatly designed enclosed HDMI/MHL connection compartment, supports wireless HDMI dongles or MHL connectors, while a cable management hood eliminates unsightly cable clutter. With a smart design, the PJD7326 is the ideal projector in any environment with less lighting limitations.
Resolution : 1024x768 (XGA)
F Stop / Focal Length : 2.56 ~ 2.68 / 22 ~ 24.1
Zoom Factor : 1.1x
Focus / Zoom : Manual / Manual
Keystone : +/- 30° (Horizontal / Vertical)
Display Size : 30" ~ 300"
Throw Distance : 1.19 m ~ 13.11 m
Throw Ratio : 1.96 ~ 2.15
Lamp Power : 240 W
Lamp Life (Normal /SuperEco Mode) : 3500hrs / 6500hrs
Brightness : 4,000 Lumens
Contrast Ratio : 22,000 :1
Optical Offset : 120 %+/-5%