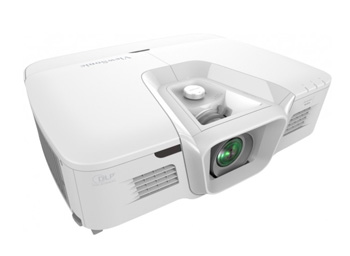 Pro8530HDL
5200 Lumens Full HD Installation Projector
Features & Specifications
Utilizing a unique "Flex-In" design, the Pro8530HDL integrates an intuitive form, high flexibility and an easy installation process, making it the ideal installation projector. Equipped with 5,200 lumens and Full HD resolution, the Pro8530HDL boasts a sleek top cover and an intuitive PortAll® compartment to accommodate HDBaseT, wireless dongle, or PC stick integration for versatile application, while the cable management and 4-in-1 power button embody a bold and futuristic design. Moreover, the 4 HDMI ports, and centered lens with multiple adjustment in vertical lens shift, 1.6x optical zoom, HV keystone (auto V), and 4-corner offer flexible and easy installation. Powered by SuperColor™ and SonicExpert®, the Pro8530HDL provides a professional audiovisual performance. The Pro8530HDL not only meets large venue Pro AV projection requirements, but is also more than enough for general high-brightness projection.
Type : TI DMD 0.65
Resolution : 1920x1080 (Full HD)
F Stop / Focal Length : 2.54~3.07 / 15.75mm ~ 25.1mm
Optical Zoom : 1.6X
Keystone : +/- 30° (Horizontal / Vertical)
Auto Keystone : Yes (Vertical)
Lens Shift : Yes (7.5% Full high or 15% Half high)
Display Size : 30" ~ 300"
Throw Distance : 0.71 m ~ 11.36 m
Throw Ratio : 1.07~1.71
Lamp Power : 370W
Lamp Life (Normal / SuperEco Mode) : 2,000 / 2,500 (hours)
Brightness : 5200lm
Contrast Ratio : 5000:1
Normal / Eco Mode : 36dB / 33dB
Optical Offset : 115%~130%+-5%